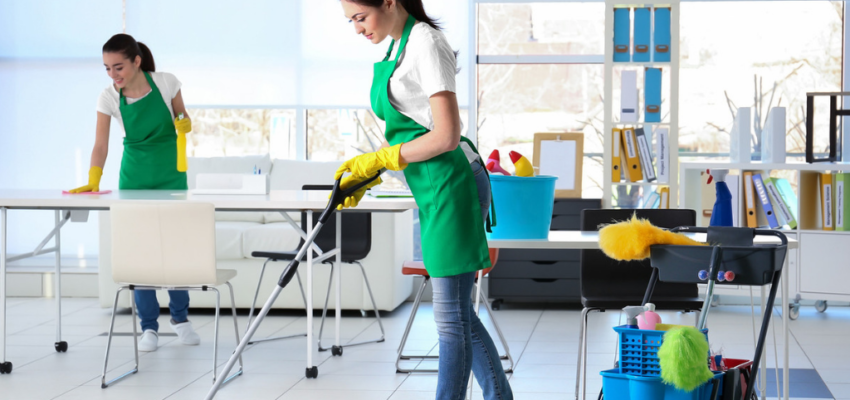 Why You Need An Office Cleaning Service?
Majority of workers these days spend around 40 hours in their office environment every week. Ensuring that the office is clean, healthy and safe should be of utmost priority to the office managers
These days most offices depend on their employees to keep their working surroundings clean and tidy, employing professional cleaners can make a huge difference and save your business lots of time, channeling the available amount of time into productive office activities. These are the reasons why getting an office cleaning service can be one of the most amazing moves you could make for your employees and office.
Here are the major benefits of getting a professional office cleaning service:
1. Green Cleaning
It is important that we know our carbon footprint should be at the minimum, we should also understand how our activities affect our office environment. With our valid certification and experience, we are dedicated to providing unique green cleaning services and assisting our clients to be more environmentally friendly as well.
 2. It Instills a More Productive Workforce
A clean and organized office environment motivates employees to focus on their work. An office environment that is not adequately cared for and where there is no laid down system to ensure it is kept clean and safe can be hard to work in. The possibility that important documents get thrown away or misplaced is higher.
Getting professional office cleaners can ensure that your office performs like a well-serviced machine, and the cleaner your office environment is, the more your employees are moved to imbibe the culture of cleanliness, keeping their space organized, desk cleared and documents properly filled.
 3. Saving Time and Money
If keeping the office clean is seen as an employees duty, the time and energy spent on cleaning can add up to many hours that is taken out of their work schedule which could have been utilized to increase productivity and improve the business as a whole.
Contracting out cleaning duties gives you and your employees peace and rest of mind that the office environment will be kept tidy, clean and healthy.
Having awareness, that you are building a safe, welcoming or serene environment, ensures that each and every one can move on with their activities without the stress of ensuring how the office would be kept clean. Getting a professional office cleaning helps eliminate the potential stress in having to task employees to carry out office cleanings or the tension between workers who may feel others putting as much effort into keeping the office clean.
Hiring office cleaning professionals to enable the office staffs to be able to work more diligently and efficiently on their own specific duties- the ones they were recruited for!
4. Creating a Healthier Office Environment
Without the use of professional cleaners, specks of dirt and bacteria can easily build up. With a large number of office staff making use of facilities, eating at their tables and touching office equipment, it is only a matter of minutes before germs and bacteria begin to spread
A research office resource provider Hloom found out that many office items contain a huge amount of germs. Research has proven a coffee pot handle can amass up to 44% more bacteria than that on a school toilet seat. Or even a copy machine start button carries 4 times more bacteria than your pet's food bowl. This seems unbelievable but true.
The level of bacteria and germs found in an office surrounding can cause illnesses to spread easily, and this gives rise to increased sick days taken by the team.
5. Workforce Morale Improves
Displaying to your workers that you are willing to spend time and resources into paying for a professional office cleaning service demonstrates an outstanding commitment to making sure that your employees are provided with the best possible working environment and condition.
Employees who feel well taken of are usually more positive about coming to the office, and way more productive and have a greater loyalty and commitment to their jobs and the entire business.
Greenleaf Services, office cleaning services at it's best.
Keep your office environment clean and safe. Stay Green